The Need for Professional Home Cleaning Services in New York City – What You Need to Know Before Hiring
GTS
Keeping your home clean and tidy is one of the most important things to do to ensure a healthy living environment. However, with busy work schedules and social demands, finding the time to clean your home can be challenging. Moreover, cleaning requires a certain level of expertise to prevent damages and ensure optimal results.
New York City is a vibrant and bustling city, with a fast-paced lifestyle that many residents find themselves struggling to keep up with. The need for professional home cleaning services in New York City has been on the rise as people's lives become more hectic. In this article, we will discuss the importance of hiring a licensed and insured cleaning company to ensure that your cleaning needs are met. We will also look at the different types of cleaning services available and the benefits of hiring an owner-operated cleaning company.
Why Hire a Licensed and Insured Cleaning Company?
Hiring a licensed and insured cleaning company is essential to protect yourself and your home. A licensed company has been authorized by the state to provide cleaning services, meaning that they have the necessary skills and knowledge to handle your cleaning needs. Additionally, an insured company provides you with peace of mind that in the unlikely event of any damages, you will be protected. A reputable cleaning company will always have insurance to cover these situations.
Deep Cleaning Services
Deep cleaning is a thorough cleaning that goes beyond regular cleaning. It is essential for maintaining a clean and healthy living environment, especially for people who suffer from allergies and other respiratory problems. Deep cleaning includes cleaning baseboards, removing cobwebs, washing walls, and cleaning inside cabinets and drawers. It can be a challenging and time-consuming task, which is why hiring a professional cleaning company is highly recommended.
Regular Scheduled Cleaning (Recurring Cleaning Service)
Regular scheduled cleaning involves cleaning your home at regular intervals, usually on a weekly, bi-weekly, or monthly basis. This is a convenient way to maintain a clean home without the hassle of having to do it yourself. A reputable cleaning company will customize a cleaning schedule that suits your needs and budget.
Cleaning Before You Move Into Your New Apartment
Moving into a new apartment or home is an exciting time, but it can also be overwhelming. The property may not be in the best condition, and you may need to clean it before moving in. A professional cleaning company can help you prepare your new home for occupancy and ensure that it is clean and hygienic.
Move-Out Cleaning Before You Returning Your Apartment to Landlord or Management Company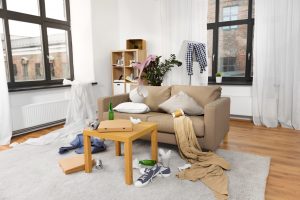 Moving out of a rental property requires you to leave the property in good condition. A professional cleaning company can help you ensure that the property meets the landlord or management company's standards. Move-out cleaning involves a deep cleaning of the property, including carpets, walls, windows, and appliances.
Advantages of Hiring an Owner-Operated Cleaning Company
Hiring an owner-operated cleaning company has several advantages. For one, the owners are more invested in the success of their business, and they are more likely to provide personalized service to satisfy their customers. Additionally, owner-operated cleaning companies tend to have a better-trained and loyal cleaning team, ensuring a consistent service level.
Conclusion
In conclusion, keeping your home clean and tidy is essential for a healthy and happy living environment. Hiring a professional home cleaning service is a convenient and effective way to ensure that your home is clean and well-maintained. To avoid problems during or after the cleaning process, it is important to research the right home cleaning company to suit your needs. So, take the time to find the right cleaning company for you and enjoy the many benefits of a clean living environment.