Housekeeping Tips: How To Keep Your House Clean
GTS
Over 50 million people in the US suffer from allergies.
For many sufferers, it's triggered by things like pet dander, house dust mites, and mold spores. They can build up when you don't have a regular cleaning schedule, making symptoms worse.
That's why it's important to have a deep clean, then keep up with maintenance. But if you're not a fan of cleaning, it might be difficult to know where to start.
That's where we can help! Keep reading for our guide on home cleaning and how to keep on top of it.
Start With the Most Important Tasks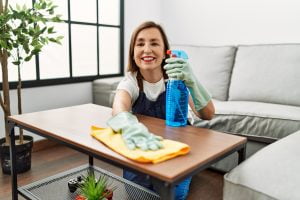 Our first housekeeping tip is to make a schedule and start with the most important tasks first. You could also start with the most difficult or time-consuming if that works better for you.
Either way, these should be jobs that make the most impact on your home's cleanliness. For example, if you're struggling for time, do dusting and vacuuming first.
When you have more time, you can add in cleaning the bathroom, or mopping floors. Once you tackle the harder jobs, it'll make the rest of your home cleaning a breeze.
Break the Jobs Down into Smaller Ones
Once you have your deep cleaning done by a home cleaning service, you need to stay on top of it. But don't schedule all your cleaning in one go.
Break it down into smaller tasks you can complete at weekends or even each day. For example, instead of doing all the vacuuming on a set day, vacuum a different room each day.
Set aside a set amount of time each day you can use for cleaning, whatever you can manage without neglecting other areas of your life. Then design your cleaning schedule around that time.
Breaking it down helps you stay on top of the cleaning without feeling overwhelmed. One-time cleaning will get your home back up to standard, but you need to keep it that way.
Clean Often to Avoid Dust and Debris Building Up
Another of our home cleaning tips is to clean often to stop dirt and debris from building up. As we mentioned, household debris is a leading cause of allergy symptoms.
It'll build up faster if you have children and/or pets too. It's best to start off with a weekly clean and go from there. You may need to do some rooms more often, and some less often.
Work out the days that work best and how you want to divide the chores. Then, set it in the calendar with reminders so you don't forget. Dusting, vacuuming, and mopping are vital chores you need to keep on top of.
Get All the Family Involved
An often overlooked piece of home cleaning advice is getting the whole family to pitch in. It shouldn't ever be only one person doing all the cleaning. Yes, dads, that does include you!
Assign each person a task they need to complete each week. For example, one person has to do the vacuuming and another one needs to mop the floors afterward.
By assigning each person a few tasks, you make sure everyone contributes to the house you share. It also teaches younger members of the family about responsibility and cleanliness.
Get the Right Supplies

No deep cleaning guide would be worth its salt without making sure you get the right supplies. A workman is only as good as his tools, as they say.
High-quality supplies are sure to make life easier and save you time. A cheap sponge or towel might seem like it'll work, but if it breaks, then you have to stop to replace it.
You'll want to invest in specific supplies for the job you're doing. For example, windows need to have window cleaners. You'll also want to be careful on certain surfaces, as some cleaners can cause damage.
You'll want to use good-quality dish soap and ensure your cleaning cloths and sponges are sturdy. That initial higher cost will pay off long-term with the time, money, and energy you will save.
Don't Neglect the Little Jobs
It's easy to get hung up on the big jobs, but our home cleaning guide wants to make sure you don't forget the small stuff too. Wipe down door handles, light fixtures, and any other areas that get touched often.
These are prime locations for germs to breed and spread, so make sure you're keeping them clean. Change bed sheets at least every two weeks, especially if you have pets or kids.
When dusting, don't forget the baseboards, window sills, and ceiling fans. Wipe down appliances and countertops too, as they can harbor germs. These small jobs soon add up and make a huge difference to how your home looks.
Remove Trash Each Day from Your Home
One of the simplest things you can do to keep your home clean is taking out the trash each day. This will reduce the amount of trash building up in your home and helps you keep on top of it.
If there is a trash can in each room, make sure they're emptied at the end of the day. Otherwise, you might get unpleasant smells starting to develop in areas you want to relax.
Declutter Your House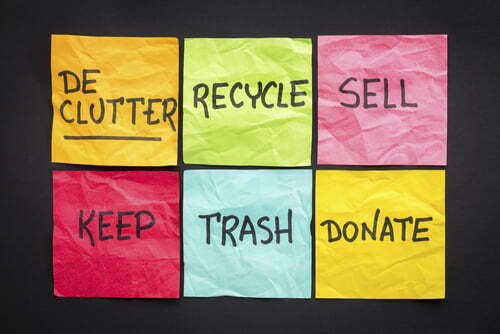 Decluttering your home is one of the best deep cleaning tips and you should do it before you hire deep cleaners. If a home is too cluttered, it can be hard to relax, and it may cause stress and anxiety.
It also makes cleaning a hassle. There are knick-knacks to dust and furniture to maneuver around. If you haven't seen or used an item in at least a year, it's fair to say you don't need it. Try to only keep things that you use or have an attachment to.
The less stuff you have laying around, the easier and faster it will be to clean. If you do this before your deep cleaning service, they'll find it easier to get into all the nooks and crannies too.
Home Cleaning Tips to Get You Started
Home cleaning doesn't have to be a chore. If you get the whole family involved and break it down, you'll it'll get done in no time.
Focus on the most important/difficult tasks and make a schedule. Break larger tasks into smaller ones, and don't try to cram them all into one day. Otherwise, it's easy to get overwhelmed.
To get yourself off to an easier start, contact us today. At New York Home Cleaning Service, we're here to do the hard work so you don't have to.