What's Included in Home Cleaning and How Much Does It Cost?
GTS
The average workday is about 7 to 8 hours in the United States. However, that number doesn't take into account how long it takes to get there, your lunch break, and if you work extra hours from home. By the end of a long day, the last thing you want to do is spend a few more hours cleaning your house.
Your best option is to hire a home cleaning service that specializes in the field. But what's included in home cleaning and how much will it cost you? And what are the different factors that affect that cost?
What Does a Home Cleaning Service Do?
What's Included in Home Cleaning?
Home Cleaning Tasks Broken Down

All Areas
Bathrooms
Kitchen
Bedrooms

Routine Home Cleaning Cost

Condition of the House
Square Footage
Your Location
Type of Cleaning
Frequency

One-Time Home Cleaning Cost
How Much Does It Cost to Clean an Apartment?
How Much Does It Cost to Clean a House?
Cost of Emergency Home Cleaning
Qualifications of Home Cleaning Providers
Find the Best Home Cleaning in NYC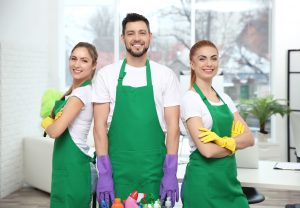 What Does a Home Cleaning Service Do?
The purpose of a home cleaning service is to keep your home in the best possible condition at all times. Maybe you frequently have visitors or do business in your home. Or perhaps you simply wish to prevent the transfer of germs and bacteria by keeping everything clean.
One of the benefits of hiring home cleaners is that you can leave it all up to them. As long as you take care of any excess clutter, they'll take care of all the vacuuming, mopping, and other tasks.
Additionally, the best home cleaners bring their own supplies. The pros have a system for how best to tackle dirty areas, and they know what supplies to use for the best results. You only need to pay for their services.
What's Included in Home Cleaning?
Most home cleaning services follow the same checklist in the beginning.
Before the first cleaning session, you'll do an initial walk-through with your cleaner. It's at this time that you'll let them know some of your challenges in each area and what places to avoid.
Share any special requests you have, such as using gentle products on certain tiles or rugs. Let them know in advance if you want them to use eco-friendly products. If they don't purchase those products, you may need to spend your own money on specific brands.
Most services offer deep cleaning for their first visit. It'll cost you extra for the session, but it'll help save time on future visits.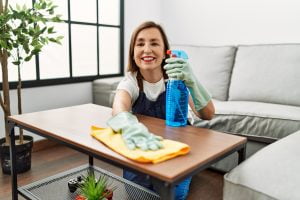 Home Cleaning Tasks Broken Down
The type of cleaning tasks offered depends on the rooms a cleaner has access to. However, maid and home cleaning services do not touch the outside of your house.
They may clean the inside of your windows, but not the exteriors. Likewise, you cannot expect them to clean or organize outside areas such as your carport or patio.
All Areas
All areas of your home receive similar treatment when it comes to dusting. Your home cleaner will dust surfaces, hand wipe furniture tops, and clean your ceiling fans within reach.
Carpets will be vacuumed, and floors mopped. The trash in every room is thrown out and bags replaced.
When it comes to cleaning windows and mirrors, you should have some kind of say in what product is used. If you're allergic to certain window cleaners, you can always request an alternative.
Bathrooms
Nobody likes cleaning bathrooms. As a result, most people tend to gloss over some of the finer details and fail to get an optimal clean.
All surfaces will be wiped and disinfected. Showers and tubs are cleaned and disinfected.
Toilets will be dealt with appropriately. If you have chrome fixtures, they will be cleaned and shined.
Kitchen
Kitchen areas are cleaned much like bathrooms. Tile cleaner can help restore a shine to the floor, and sink areas need to be wiped down to a shine.
Your home cleaning service will pay specific attention to areas that often go ignored, such as the area around your appliances. The top of refrigerators can collect a lot of dust. They may also take the time to clean out your microwave.
Bedrooms
Bedrooms are a touchy area for a lot of people. It's where you store your most private belongings, after all. Make sure to lay out specific guidelines for what parts of your bedroom a cleaner has access to.
Your home cleaning service should dust the area, vacuum carpets, and change sheets upon request. You may also wish to give them permission to dust wall art and figurines, as well as sweep under your bed.
Routine Home Cleaning Cost
On average, the cost of house cleaning is about $40 to $65 per hour. A three-bedroom home may cost around $200 to clean.
The cost of home cleaning depends on the type of package you purchase as well as other factors such as your location and home size. Quicker jobs will cost much less than more intensive jobs. You also have to consider the equipment used for the job, such as a carpet cleaning machine.
Condition of the House
Some cleaning and maid services charge based on how long they work. The worse the condition of your home, the more time they'll have to put in.
If your home needs some serious deep cleaning, you'll usually get charged extra. A lot of clutter will also prevent the service provider from gaining access to certain areas.
The best way to avoid extra costs is by doing some light cleaning before your service arrives.
Pick up some of the toys your kids leave lying around. Gather up all your dirty dishes and leave them near or inside the kitchen sink. Take your pets out to the park while the housecleaners do their work.
Square Footage
Another factor that can affect the time it takes to clean your home is its size. Most cleaning services separate out their different packages based on how many rooms you have.
Our services go up about $20 to $30 per additional bedroom.
Your Location
Expect home cleaning in NYC to cost more than in a more rural area. These types of services always scale up according to supply and demand. Get several estimates so you can make the best decision for your needs.
Type of Cleaning
Most people utilize cleaning services for more standard jobs, such as dusting, vacuuming, and mopping floors. If you want extra services, such as deep cleaning or for them to do your laundry, expect to pay more.
Frequency
Most services offer a discount based on how frequently you hire them.
If you only try out cleaning service for a single day, then you'll likely have to pay more than if you hired them on a weekly basis. However, hiring a service weekly will cost more in the long run than a one-time deal.
What it comes down to is what you need and can afford. If you plan on having a home cleaner visit once a week, it's better to book them accordingly than pay extra for single visits.
One-Time Home Cleaning Cost
You may only want to hire a house cleaner for a single day before an event or a party. But what can a cleaner do in just a few hours and how much will it cost?
In two hours, a house cleaner can vacuum and mop your floors, wipe down your kitchen counters, and wipe down your bathroom. The main focus of a quick job is to make everything look as presentable as possible. It helps if you pick up around the house before they arrive.
Communicate with your cleaner to figure out what you'll pay. Some make you pay for the day, while others charge by the hour.
How Much Does It Cost to Clean an Apartment?
Most apartments have less square footage than a house does. Additionally, the rooms the cleaning service has access to will depend on whether or not you live alone or with roommates.
If you live alone, what you pay won't differ much from the standard price. However, your roommates may not want a cleaning service to access their bedrooms or private bathrooms. As such, you can expect to pay for a one-bedroom cleaning service even if your apartment has multiple bedrooms.
How Much Does It Cost to Clean a House?
The price of cleaning a house varies based on the number of rooms you want to be cleaned.
For example, a one-bedroom home may only cost about $135 for a single visit every four weeks. A three-bedroom home will cost you about $200 for the same amount of visits.
Cost of Emergency Home Cleaning
Since emergency cleanings are one-time deals, you'll pay for the cost of a single visit. A single visit for a single bedroom is $140. A single visit for two bedrooms is $170.
If your emergency requires a deep cleaning service, expect to pay more.
Qualifications of Home Cleaning Providers
Before you hire a housekeeper, consider whether or not you want an independent worker or a cleaning company. A sole proprietor may charge less, but a cleaning company screens all of its employees and takes responsibility for their actions.
Get referrals from family and friends and interview your candidates. Try to do your own background check on the person visiting your home.
Find a company that offers a good package for your needs. Agree to a trial period to make sure they're doing a good job.
Most importantly, lay out clear expectations and boundaries. You should feel comfortable when your housekeeper visits and trust that they won't take advantage of that access.
Find the Best Home Cleaning in NYC
Hopefully, now you should know what's included in home cleaning, and all of the different factors that can affect that cost. For the most part, larger homes in busier cities will cost more to clean than those in suburban areas. You also may pay more if your space needs a deep cleaning.
New York Home Cleaning provides residential and commercial cleaning based out of Bronx, NY. We also offer post-construction cleaning. Contact us to learn more and check out our pricing models online.