Home Cleaning Tips and Hacks
GTS
Between working, taking care of the kids, and managing a household, it can be hard to find time to keep your home clean. But luckily, there are some simple cleaning tips and hacks that can help make the task easier. In this blog post, we'll share some of our favorite tricks for keeping your home clean and tidy. So read on and start making your life a little bit easier!
Make a cleaning schedule and stick to it – this will help you stay on top of things and avoid feeling overwhelmed
Have you ever felt completely overwhelmed with home cleaning? One great way to help decrease that feeling of dread is by creating a home cleaning schedule. Taking the time to figure out how often you need to clean each room, and what needs deep cleaning, can make home cleaning feel less like an unbearable task. Making a home cleaning schedule is also a great motivator; set goals each week or month and work towards them. You'll find that sticking to your plan and seeing results can be quite rewarding! So this week, challenge yourself to start on your home cleaning schedule and soon enough you won't be feeling so overwhelmed anymore!
Invest in some good quality cleaning supplies – they'll make your life easier and help you get the job done faster
Cleaning does not have to be a hard job, but it is much easier if you have the advantage of good quality cleaning supplies. Investing in the right supplies will make your life a lot easier and help you get that job done in no time. Not only will you save yourself energy by having premium-grade items at your disposal, but you'll also save yourself some precious hours that can be used for something more enjoyable. So, don't delay any further – upgrade your cleaning arsenal with the right supplies and get on with being productive (and perhaps even having some fun)!
Don't be afraid to ask for help – if you're struggling to keep on top of things, enlist the help of family or friends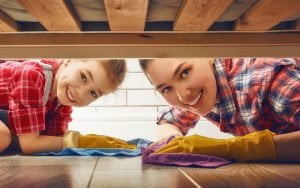 Have you ever looked around your home, only to become overwhelmed by cleaning tasks? Don't fear, as help is only a call away! Ask some family and friends to form a cleaning team and make light work of cleaning day. Kids are great support and can be included in cleaning too – assign them easy tasks like putting away toys, wiping down surfaces or cleaning the bathroom mirror. You don't need to do it all on your own – working together makes cleaning much easier (and a lot more fun!) so get everyone involved. A happy home cleaning team will have everything spick and span in no time!
Home Cleaning Tasks For Kids
Cleaning can be a challenge, but it doesn't have to be when you involve the whole family! Make home cleaning a fun activity by including your kids:
They can help dust
Vacuum
Wipe surfaces
Organizing toys in related bins
Declutter by throwing away unwanted or needed items
Give them their own cloths or cleaning sets and have them annoy the dust bunnies out of every corner. You don't have to do all the home cleaning alone anymore- celebrate with your kids and make home cleaning an experience that everyone enjoys! And teach them a valuable lesson in the process.
Use these tips and hacks to make your life easier – from making your own cleaning solutions to using old newspapers as dusters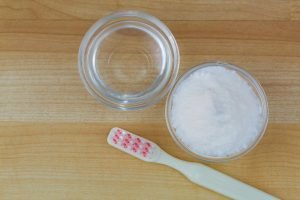 Have you ever wanted to make cleaning your home a lot easier? Well, here's the scoop – there are tons of cleaning supply hacks that you can use to make cleaning your place easier, more efficient, and even save money! For example, instead of purchasing expensive cleaning solutions from the store, consider making your own cleaning solutions using ingredients that you probably already have at home. You can also put an old newspaper to good use – using them as dusters instead of buying disposable cleaning cloths! There are so many cleaning supply hacks out there and these are just scratching the surface. So if you want to simplify cleaning around your home and save some cash in the process – these tips and hacks will be life-savers!
Not only are homemade cleaners safer from a health perspective, but they're budget friendly too – all with the added bonus of being environmentally conscious. With ingredients such as:
Vinegar
Baking Soda
Dish Soap
Lemons
Homemade Surface Cleaning Solution
Below is a quick recipe for a cleaning solution that is environmentally friendly and easy on the wallet. Use it to clean countertops, mirrors, windows and floors.
2 cups water
2 cups white distilled vinegar
Optional: drops of essential oil for fragrance
Scrubbing Cleaning Solution
Need a soft-scrub for deeper cleaning? no problem, use the ingredients below to make your own homemade soft-scrub.
1/2 cup of liquid soap
2 cups of baking soda
Mix together and you got a soft scrub. You can add more soap or your favorite essential oil for fragrance.
Homemade cleaning solutions allow you to get creative and make homemade all-purpose sprays, kitchen and bathroom spritzers or even window washer supplies! So why not give homemade cleaning solutions a try? You may just save some money while making your home squeaky clean.
Remember to take care of yourself too – when you're feeling stressed, take a break and relax
You don't have to do it all at once – when it comes to cleaning your home, don't overwhelm yourself. You can break it down into segments so that you don't feel stressed. Take a break and relax – remember to take care of yourself too.
All in all, taking the time to create a cleaning system and follow it can really change the way you view and tackle house work. Remember to be kind to yourself, invest in good cleaning supplies, utilize some neat hacks, and don't be afraid of asking for help; this will make keep your home clean and tidy with minimal effort. Get a jumpstart on spring cleaning by embracing these tips today! And if you find that you're feeling overwhelmed or need some extra hand, please don't hesitate to reach out to New York Home Cleaning Service –we are here to help! Let's make the chore of housework less of a tedious task so we never have to dread it again. Cleaning should be joyous not taxing — let's make it fun again!